Teacher Lee Hiang
Bachelor of Engineering (Computer Engineering, Second Upper Class Honours) (NTU)
Postgraduate Diploma in Education (NIE)
Hobbies:
Reading books and brisk walking
Teaching Philosophy or Why you enjoy teaching:
I love to interact with children and teenagers and help them in achieving their goals. Seeing them develop into mature and useful young adults give me a sense of satisfaction in my job.
Excellence is not a skill, it's an attitude
Teacher Shan
BSc Sport Science & Management (Second Upper Class Honours) (NTU)
Hobbies:
Translating English and Chinese songs & coming up with interesting questions to make students giggle as they are doing.
Teaching Philosophy or Why you enjoy teaching:
Albert Einstein once said, "If you can't explain it simply, you don't understand it well enough." While teaching, I am understanding everything that I taught better. What is a better occupation to be in?
"You can do it!" Repeat a hundred times and every child will begin to believe.
Teacher Jenna
NUS Bachelor of Science (Honors), Majored in Life Sciences
Hobbies:
Travelling and reading
Teaching Philosophy or Why you enjoy teaching:
All students deserve a compassionate and caring teacher, who is considerate of their diverse needs and while equitably holding them to high expectations; and that all students are capable of learning when given proper guidance and sufficient encouragement.
 It does not matter how slow you go, as long as you do not stop.   -Confucius
Teacher Johnathan
Bachelor of Science(Honours) in Applied Physics. Merit
Hobbies:
Dance and Artistic Gymnastics
Teaching Philosophy or Why you enjoy teaching:
Being part of their development, growth while helping them learn about the world we live in is an amazing experience
 If Plan A doesn't work, don't worry, the alphabet has 25 other letters
Hobbies:
Exercising and travelling
Teaching Philosophy or Why you enjoy teaching:
Having the opportunity to mould young minds is an honour and is something I take pride in.
Learning is a two-way street
Dr. Yeo
PhD Electrical & Electronic Engineering) (NTU)
B.Eng Electrical & Electronic Engineering) (NTU)
Hobbies:
Badminton and Solving Math Questions
Teaching Philosophy :
You cannot teach a man anything, you can only help him find it within himself.
There are no mistakes, only lessons.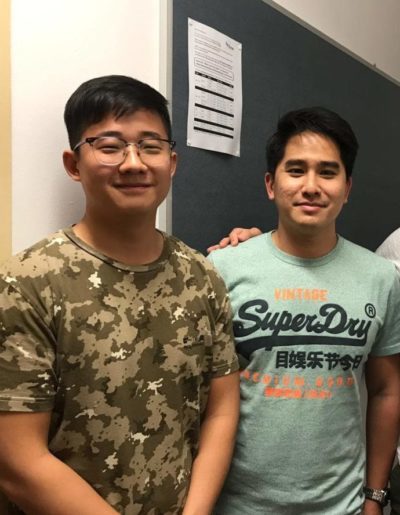 History and Teaching Style :
Meow Learning Centre's partnership with The Baconian Project began in 2014.  A team of experienced and outgoing teachers dedicated to making every lesson your child attend fun and engaging, subjects are also often taught as analogies that directly relate to a student's everyday life.
As a result, this familiarity gives students a natural interest in the concepts taught, and allows abstract concepts to be easily understood and remembered.
Hence, The Baconian Project's unique approach has empowered their students to have no difficulties paying attention in class and retaining what they've learnt, with their students having consistently producing stellar results over the years.